The Nordstrom Anniversary Sale is the only annual sale that I look forward to as much as Amazon Prime Day and Black Friday. Over the years, it's definitely gotten a little out of control, and I've learned that you really only need to buy a few items that don't go on sale the rest of the year.
This year, you can preview early access and add items to your wishlist before you're allowed to shop the sale. Nordstrom rolls out access to the sale in shifts:
Icons are the store's "most valued customers" who get early access on Aug. 4. Nordstrom doesn't specify how much money you need to spend within a calendar year to qualify. Reaching this level gives you the opportunity to apply for the retailer's black Visa credit card.
Ambassadors are shoppers who spend $5,000 or more during a calendar year and get early access on Aug. 7.
Influencers are customers who spend at least $2,000 within a calendar year and get early access on Aug. 10. — This is my level!
Insiders are shoppers who spend at least $500 within a calendar year and get early access on Aug. 13.
The sale opens to the public on Aug. 19.
I've already added items to my wishlist, so as soon as midnight strikes on Aug. 10, I can add to cart. The sale opened to the Icon Level today, so some of the things are already selling out, unfortunately. But let me help you pair down what to add to your Nordstrom Anniversary Sale wishlist this year. We're talking wardrobe staples, boots for women and kids and jackets. These are your Nordstrom Anniversary Sale picks for the average woman — someone who wants a good deal, and wants to look cute — on a budget! Happy Shopping!
first up, kid picks: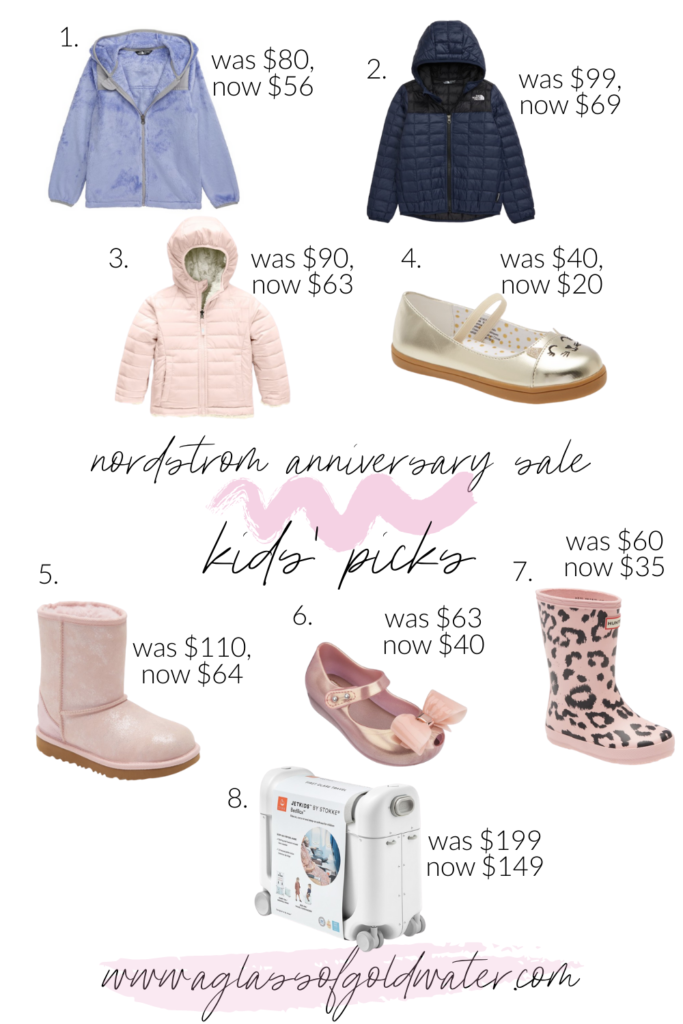 I use the Nordstrom Anniversary sale to get the winter basics for my kiddos that are normally really expensive. So I get Miri her winter UGG boots, a nicer pair of shoes and I try to get the kids their winter jackets too.

next up, women's picks: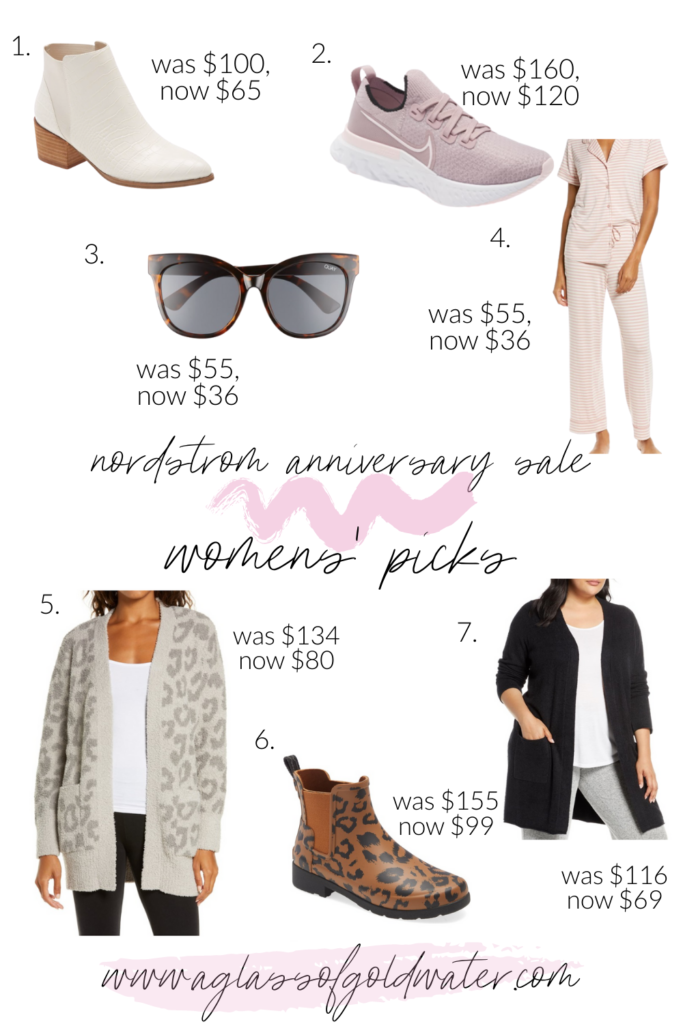 1. Finn Bootie 2. Nike React Infinity Run FlyKnit 3. Quay Sunglasses 4. Moonlight Dream Crop Pajamas 5. Barefoot Dreams CozyChic Leopard Cardigan 6. Hunter Chelsea Rainboots 7. Barefoot Dreams CozyChic Lite Cardigan
I have the Chelsea Hunter Rainboots, and I LOVE them! I'm snagging the leopard Barefoot Dreams Cardigan because I already have the CozyChic Lite one that I love so much. You know how big a fan I am of good jammies, and these rarely go on sale! And I'm grabbing the Nike's too! And THAT'S ALL! No other unnecessary women's purchases. Everything else will either go on sale again, possibly for more money, or just aren't important things to have!

Finally, a few home items: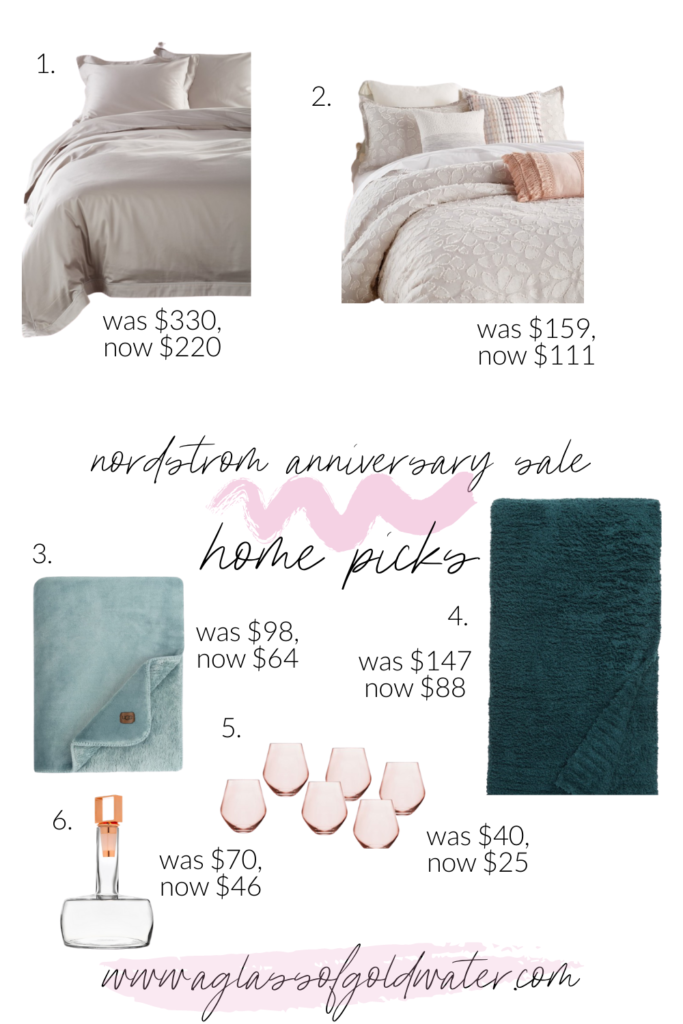 I've been dying to try the Boll and Branch sheets, so I may take the plunge!

My rec to you?
Peruse the Anniversary Sale, put your picks on your wishlist and wait for the date when you have access to the sale. Definitely shop as soon as you can, if you really want the items on your list. But at the same time, don't freak out if you don't get exactly what you want. There are ALWAYS other sales. Deep breaths, we have more important things to worry about! But have fun!
A word about influencers and the N Sale:
Lots of influencers cover this sale. It's a big affiliate link time for many of us, and we work really hard to find picks that we think our audiences will love. If you add items to your wishlist before you have sale access, it would mean SO MUCH if you could come back and just click one of the links on this post when it's time for you to shop. That way, I'll get credit for your purchase. You can click through on any of the links to the post, and then you can shop as normal.
Nothing changes for you, but I so appreciate your support, and so do other influencers that are shopping as well! Reminder, the last link you click through will be the one that gets credit for your entire purchase. I know it sounds funny, but that's just the truth. Thanks again!
Links in this post are affiliate links, meaning if you shop via my links, A Glass of Goldwater may receive a small commission. Thank you for supporting this small business.