As we come upon another time in this strange year where we are typically used to lots of festivities and events with family and friends, we have to pivot again to find activities that are safe for everyone. I know it's hard to avoid those large crowds at the pumpkin patch, or to stay home from the Uncle Moishy concert, but this is an unprecedented time, and it's our duty to look out for one another. And most of all, I think everyone's end goal is to get our kids back/keep them in school.
Friendly warning! I'm working hard to be accurate. But these are unusual times, so please check that venues remain open.
Here's how to have fun and be safe:

We tried to go this summer, but it was totally booked! Now that the weather is cooler, it seems like there are a decent amount of reservations. It's a bit pricey, at $18.95 for 16+ and $11.95 for kids ages 3-15, but for a special day trip, it sounds like it's worth it! You MUST have an online, timed reservation. You can also purchase a bucket of feed for $5. It's drive-thru and completely COVID-safe! I'm excited to try this with the kiddos for our "big activity" over Chol Hamoed Sukkos. It's about an hour and 20 minutes from Chicago, so it would be a great little day trip. There are several parks near Lake Genevathat you could definitely visit to make a picnic lunch.
Just over 45 minutes outside of Chicago, these are two places that would be great to do in one day. The Cosley Zoo is free for kids and $7 for non-Wheaton resident adults. You MUST make an online, timed reservation in advance. Masks are required when 6 ft social distancing isn't possible, and there is a one-way path for the zoo to keep everyone moving in the same direction.
Then you could pop over to Cantigny park, which is free, for a picnic lunch, walk on the nature trails and to play on the playground that looks pretty epic from the website pictures!
It's about 40 minutes outside of Chicago and offers a lot of things to do for everyone.
Adults ages 18–64, $15 ($10 Wednesdays*)
Seniors 65, +$13 ($9 Wednesdays*)
Children ages 2–17, $10 ($7 Wednesdays*)
Children 1 and younger are free
*Wednesdays are discount admission!
Admission includes FREE parking.
The Children's Garden is open again, with limited capacity, and it seems like they are being very COVID-cautious. You must have a timed reservation to enter.
Re: Children's Garden, masks are required. Monday through Friday, the Children's Garden is open from 11:00 a.m to 5:00 p.m., with the last entry at 4:30 p.m. Weekends, the Children's Garden is open from 10:00 a.m. to 6:00 p.m., with the last entry at 5:30 p.m. There are restrooms available for use here!
There is also a Troll Hunt throughout the arboretum right now, that could be really fun for kids too!
Located in Schaumburg, Bison's Bluff isn't too far from Chicago. Admission for everyone is $2. Due to capacity restrictions and enhanced safety protocols, admission will be available seven days a week, in one-hour time slots starting at the following times: 10 am, 11:30 am, 1 pm, 2:30 pm and 4 pm. They sanitize in between sessions as well.
Bison's Bluff Nature Playground is designed to engage children in active and passive play in a natural setting. This unique custom-designed play area includes natural materials (logs, boulders, sand, water, etc.) as well as nature-themed play structures and manufactured features that mimic a rock bluff and cliff face, fallen logs, a flowing stream, wetland, beaver lodge, etc. A visit to the playground will inspire active, open-ended, creative forms of play, similar to that enjoyed by previous generations of children who grew up wandering fields, forests, and streams near their homes.
In addition to Bison's Bluff, Spring Valley includes the Vera Meineke Nature Center, Volkening Heritage Farm Museum, and more than 3 miles of nature trails. The Nature Play Discovery Trail leads to small themed 'play pockets' that provide opportunities for nature play in more secluded settings.
About 40 minutes from Chicago, Goebbert's farm and fall fun is a great Fall-feeling activity for the whole family. It's not a pumpkin patch, but you can pick out a pumpkin if you want. There is a giraffe barn, petting zoo, ginormous jumping pillow and "fun farm" type activities. It's $12.99 for entry, and you can purchase pony rides and gem mining for an extra fee once you get there.
Masks are required to enter the farm and at certain attractions. I would definitely recommend going to something like this as early as possible. Although it might be less crowded during the week, I'm sure it will still get too crowded for comfort. Would be a great morning trip!
If you like hiking, this might be great for you! It's about 2 hrs from Chicago, and people LOVE day trips here.
NOTICE: Starved Rock State Park is open daily from 7am to 8:30pm.
The Visitor Center is closed but public restrooms are open.
Trailheads Concessions is open daily from 10am to 5pm.
Be basic, but know that you're going to please everyone at Apple Holler in Wisconsin. It's about an hour and change away from Chicago, and we go every year. We LOVE it. They just have the best apples, activities (although not all are open during the week now). There are clean port-a-potties, and overall a beautiful atmosphere for taking pretty, Fall pictures.
It is a BIT pricey to pick. But it's become a family tradition, and you can stop for cheap gas at the BP exit 340 and some Spotted Cow beer on the way home. IYKYK.
This place is AWESOME. It's not only a top-rated pumpkin patch, but it's got tons of kiddie rides also, almost like a mini amusement park! They are abiding by COVID policies (masks are required). It's $15.99/person for entrance, and you reserve a day/ticket ahead of time online. They're open daily from 11 am – 9 pm, on weekends they open at 10 am. I would definitely go earlier rather than later here. I've heard that the mornings are pretty socially distant and mask-abided.
It's about an hour outside of Chicago in Homer Glen, and would make an awesome day trip. There are some things to note:
We got there at 10:30 a.m., and we were able to be socially distant, although there were already lines for the rides. Most people were wearing masks, but there were people who weren't.
Around 1 p.m. it became hard to be socially distant, and most people had no regard for the 6 ft rule (like at all). By 2:30, it was incredibly uncomfortable, and I decided we needed to leave.
There were port-a-potties everywhere, and they were "pretty" clean.
There is kosher ice cream at the Muffins Ice Cream stand. Check every lid for the CRC symbol, because all of the flavors aren't kosher. But that was an exciting surprise for the kids.
Most of the rides are for little kids. Minimum height for all rides is 36″, except the one bigger "coaster" which was 39″. Most kids under 40-something inches need an adult to ride, so be aware of that. But all of the rides are included with admission. No tickets necessary.
All in all, I would definitely go again. And I hope that the COVID situation is non-existent next year, because then the crowds wouldn't bother me at all. Your kids will have a blast, just be conscious of masks and distancing.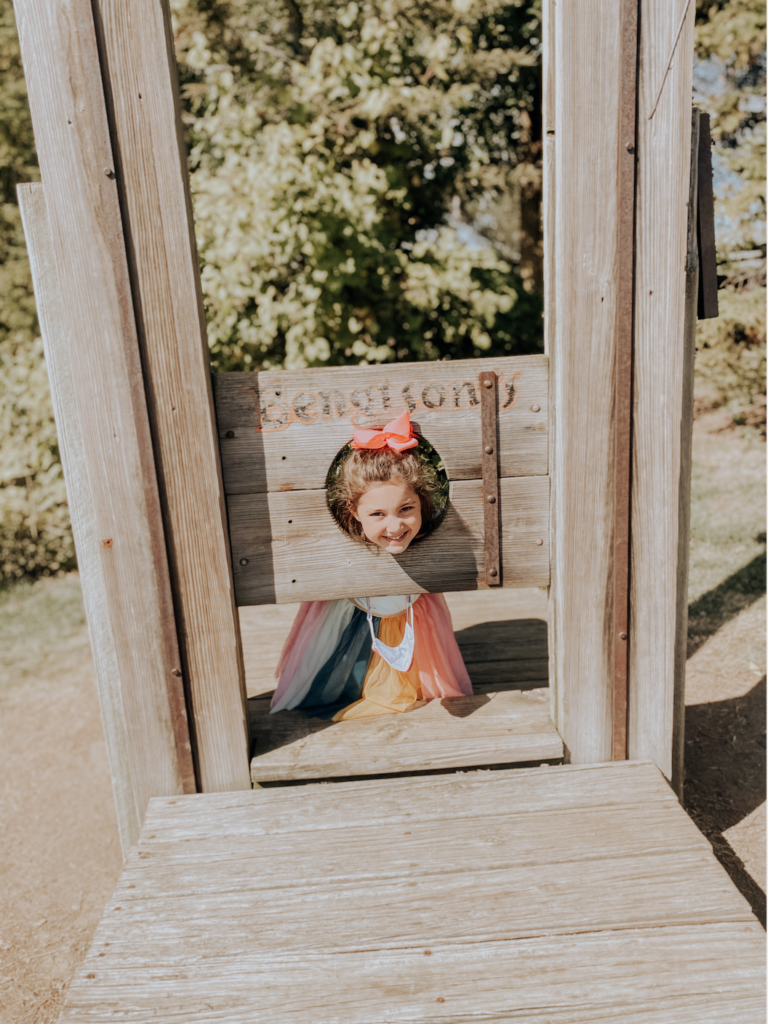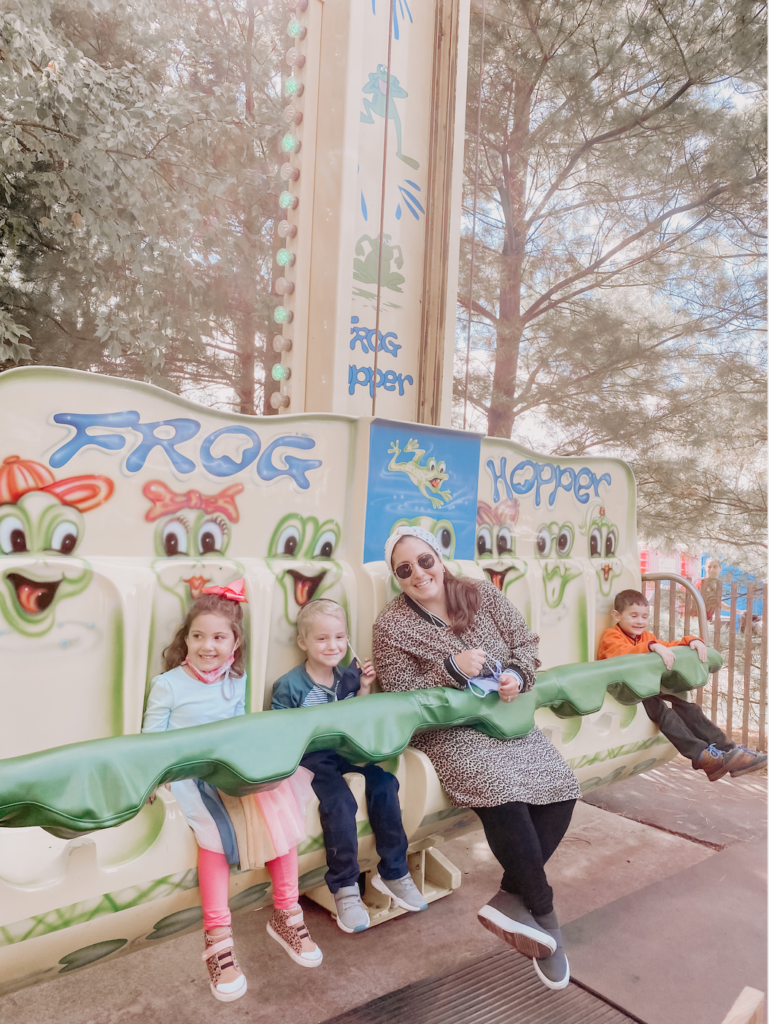 They are offering V.I.P (Very Important Play) Sessions for groups up to 10 (adults and children). You get 90 minutes of play time with varying packages of play. They have an awesome Thomas and Friends exhibit that just opened, that I think Azi would really love.
Go to the website, and see what sections they have available at what times. If you have 1 or 2 other families that you've been in a pod with, this could be a fun activity to do together. Masks are required, and you can definitely be socially distant at the museum.
The LPZ continues to be free, but timed reservations are required in advance. I've heard that social distancing is pretty well-maintained. I always caution to go earlier rather than later.
Whatever you do this Fall, I hope you keep our unprecedented times in mind. I know it feels like this is going on forever, but let's show a little self-control, as we restrain ourselves (just a bit) so we can all be safe and healthy. In fact, I think I've shown you that there are some VERY FUN activities to do, even while maintaining COVID policies and social distancing. Enjoy, and happy Fall y'all!