Thanks to Rodan + Fields for sponsoring this post. As always, all thoughts and opinions are my own.
As a busy mom navigating my son's new superhero status as a T1D warrior, it can be hard to make health and wellness a priority. Well, that just got A LOT easier with Rodan + Fields (R+F) SOOTHE Regimen.
Focusing on my skincare has become even more important to me as I've gotten older. Taking care of my skin has become a form of self-care and is an essential part of my daily routine. When I wake up in the morning and see myself in the mirror, I hate that the first thing I notice is visible redness.
Wearing a mask for hours each day doesn't help either. Mask-ne anyone?!
Skincare and sleep?!
Part of mom life is frequent middle-of-the-night wake-ups from my kids, so it's even more annoying that sometimes I wake up just from my skin feeling dry or itchy. On those magical nights when my kids actually sleep through the night, I needed something that was going to help me improve my skin and in turn, help me achieve a better night's rest.
Enter Rodan + Fields SOOTHE Regimen, a four-step Regimen for sensitive skin. This product calms dry, itchy skin. It also demonstrated visible improvement in flares due to eczema and atopic dermatitis.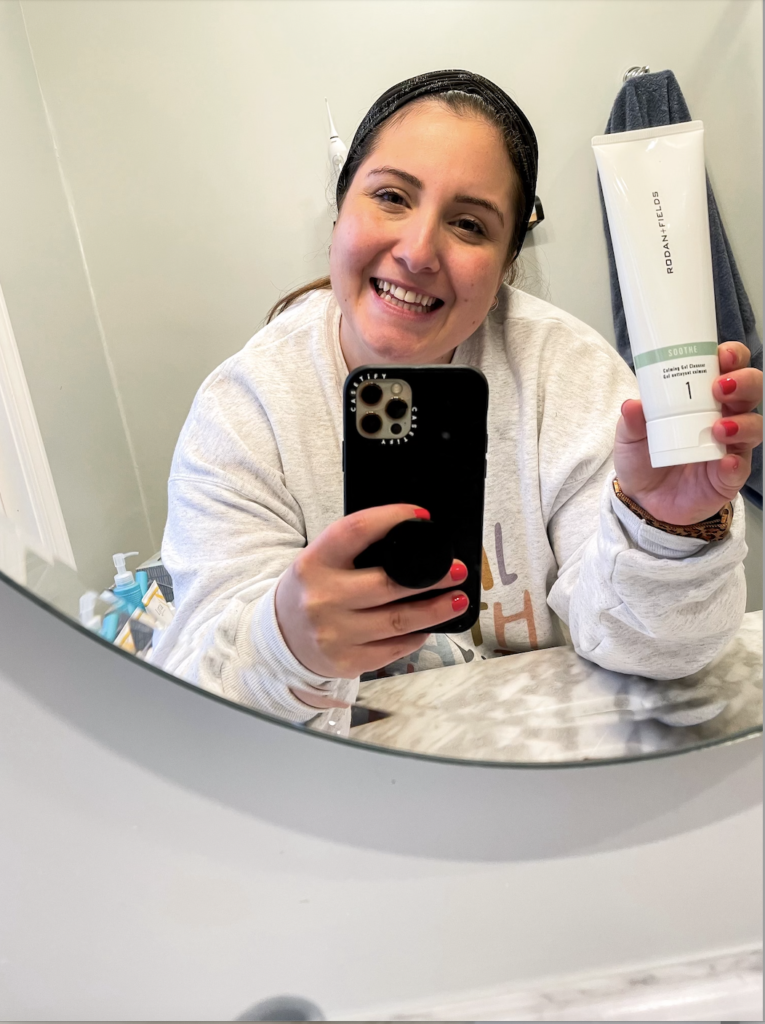 After starting the regimen, my skin was visibly less red and it really helped soothe that dry and irritating, uncomfortable feeling. Of course, everyone wants a magic instant solution to their skin problems. Unfortunately, skincare just doesn't work like that. For me, after dealing with this for YEARS, I was more than happy to wait a little while to see the results. Let me tell you, it was worth it.
What I love:
Probably one of the biggest effects of using this product is the boost to my confidence. By now, I'm used to close-up photographs and videos. It makes such a difference in my confidence level going into a photoshoot while feeling great about how my skin looks and feels.
Every morning and evening, I give myself a mini spa-like treatment which is incredibly relaxing. When I first saw what the SOOTHE Regimen offered, it sounded like it was made just for me. With consistent use, SOOTHE Regimen helps temporarily relieve skin peeling, itch and dryness.
Powered by R+F's unique Multi-Med Therapy approach, SOOTHE balances the right ingredients formulated to work together in carefully crafted layers to give you that refreshed look and feel. The Multi-Med Therapy approach basically means that the beauty of this product is that it works best when you apply the regimen in order.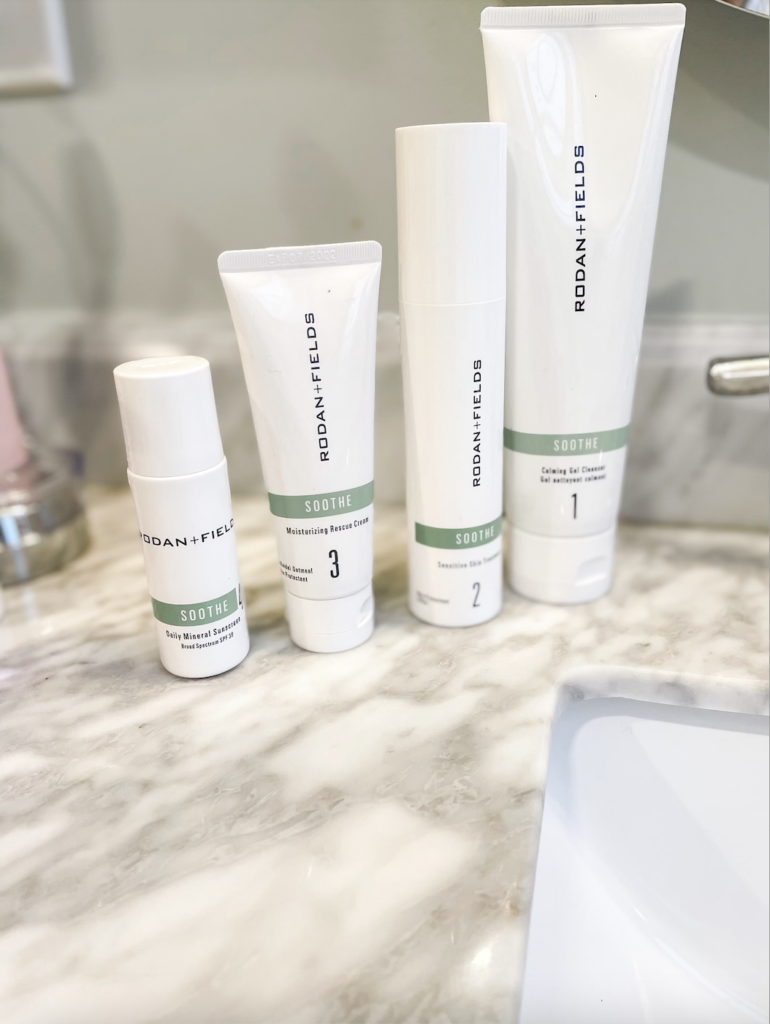 How it works to soothe skin woes
This four-step Regimen is a life-saver. Spending just a few minutes a day makes a world of difference in how I look and feel. It's so easy to use and every day I look forward to that clean and refreshing feeling I get after my regimen.
Here's how I use the four-step SOOTHE regimen for sensitive skin:
I start with the

SOOTHE Calming Gel Cleanser ($45)

to gently lift and remove impurities in the skin including makeup. The non-foaming cleanser is fragrance-free plus it cleanses the skin without stripping the skin's barrier to help calm, soothe and alleviate skin discomforts.

These days we could all use more soothing in our lives. This product sustains the protective acid mantle and helps maintain the skin's natural pH and moisture barrier. My favorite ingredient here is bisabolol which helps to calm dry, irritated skin and reduce visible redness.

Next, I apply the

SOOTHE Sensitive Skin Treatment ($90)

which is a lotion that soothes and calms skin for a smooth, clear and more healthy-looking complexion. It instantly reduces the appearance of redness and feelings of dryness, itchiness and discomfort while also protecting the skin from the drying effects of wind and cold weather.




If you are like me and live in a climate with crazy weather (looking at you, Chicago!) this is essential! On that note, it also moisturizes to calm the effects of dry, irritated and blotchy skin after exposure to UV, pollution and everyday stressors.

The Sensitive Skin Treatment uses cherimoya fruit extract to calm stressed-looking skin, pacify dry and irritated skin for less sensitive and more balanced skin. Allantoin and dimethicone both serve as skin protectants to fight against irritants.

I'm generally not a fan of licorice (the kind you eat, at least), but in this regimen the dual-licorice technology soothes skin so it looks and feels relaxed. It's basically a vacation for your face and who doesn't need a vacation right now?

As I'm starting to zen out from all this relaxation in my new morning and nightly ritual, I move to the SOOTHE Moisturizing Rescue Cream ($60) with its nourishing, rich cream that deeply delivers hydration for a smoother appearance. Say goodbye to dry skin.

The moisturizer also replenishes and fortifies the skin's natural moisture barrier to seal in hydration and defend against sensitivity, environmental aggressors and irritants. It also works to temporarily relieve flares, itching and blotchiness related to eczema and atopic dermatitis.

With its colloidal oatmeal and seven essential ceramides, this Rescue Cream temporarily protects and helps relieve dry, itchy, eczema-prone skin for ultimate comfort. It nourishes and relieves skin while supporting essential building blocks to strengthen skin's moisture barrier.

Do you have sensitive skin like me? No problem! This moisturizer is clinically tested on sensitive skin, is fragrance-free and non-comedogenic. I also thought this was too good to be true!

Last but certainly not least, I end with the SOOTHE Daily Mineral Sunscreen Broad Spectrum SPF ($40). The lightweight formula calms, soothes and minimizes visible redness. It also defends the skin from everyday environmental triggers while protecting from UVA/UVB rays, so I can take my kids out to play without missing a beat.

The artichoke leaf extract and patented RF3 antioxidant complex fortifies skin's

moisture barrier while the 100% mineral-based sunscreen actives protect against the

sun's harmful rays.
A visible difference
Don't believe me? The results of the clinical trial are super encouraging to anyone who is ready to take the next step to get the skin of their dreams. The clinical results of those who used this product after four weeks, 76% of them had less visible blotchiness.
After eight weeks*:
30% better on visible redness

4X better at evening skin tone/blotchiness appearance

100% had less visible dryness

94% had smoother skin

Now calms dry, itchy skin for better sleep

Strengthens skins barrier

78% of subjects with eczema agreed they had less bothersome itchiness

82% noticed more even-looking skin texture

79% noticed skin feels balanced and less sensitive

71% agreed skin looks calmer and more relaxed
Oh, and it's also dermatologist-tested, non-comedogenic, soap-free, sulfate-free, fragrance-free, dye-free and (in my humble opinion) worry-free. I'm thrilled that I've finally found a skincare line that visibly delivers. See for yourself and you can thank me later!
U.S. Retail Price: $190. Available through Rodan + Fields Independent Consultants or at rodanandfields.com
*Based on an 8-week U.S. clinical and consumer study. Results may vary depending on multiple factors: age, gender, skin type and condition, concomitant products used, health history, location, lifestyle and diet.